30
SLOVENIA
The philosophy of brand is inextricably linked with a deep contradictions. If you look at the logo we have two parts of the female body, and only you can decide which association is correct. Boldly, you will agree, but the approach NEIKID is proportionally reduced to minimalism. The product range and design is quite laconic. But here we are misled: the model of the backpack consists of 2 separate elements and their color combination allows the buyer to choose one of the fifty-six decisions.
And that's not all! Manual work combined with an amazing manufacturing execution. A minimum of team and a refined positioning. The whole concept entirely imbued with dialectics.
NEIKID are not only beautiful accessories is an alternative and conscious form of consumption.
neikid.si
29
ITALY
Swimwear occupy a special place in the wardrobe. It is to them women trust their body so on these wares lies an unique function:to become the personification of natural beauty, emphasizing all the curves and lines of the possessor meanwhile maintaining a certain mystique.
A close attention to beach fashion creates a certain atmosphere of responsibility, but, unfortunately, not all brands cope with it.
Nevertheless, there are always new, completing a combination of tradition and innovation. A young brand from Sardinia is no exception. A collection of SUNDALIA suitable for stylish cocktail events in the pool, and for walks near the sea. Ambitious designer Stefania Spiga incredibly thinly and accurately creates a great products with a slight touch of Mediterranean breeze.
SUNDALIA is a set of very intimate and well- designed sets for the strong and courageous women.
sundaliabeachwear.com
28
HUNGARY
Experimental, recycled materials with excellent physical properties, beautiful textures, reliefs, handwork and your design. You can choose combinations of shades or to trust to the excellent sense of taste of founders Muskinn. The newest technological designs have teamed up with a minimalist solution in one brand.
Muskinn relieves from the habits, ideas and prejudices. Definitely in collection for lovers of conceptual style!
muskinn.com
27
HUNGARY
Alexander Stojkov creates the accessories outside of time and space, adding an inhomogeneous mixture of postmodernism. From the very first touch feeling the magnetism emanating from the products of Hungarian brand. In them traced the valuable senses of the designer execution, they are quite Bohemian, herewith not devoid of elegance.
But the benefits don't stop there! In addition to high execution, gentle and fresh palettes and delicate taste of talented young master all collections are attractive of price. And it is much lower of niche European brands that is another advantage and is pushing for shopping in the online boutique of company.
Stojka - is the interrelation of contemporary fashion and art culture with the philosophical author's subtext.
stojkabrand.com
26
JAPAN
The amazing thing is a simple accessory like a pocket square is able to embody an unique expression of aesthetic understanding, social status, and the heritage of Asia's culture.
Instead of looking at the fabric from the perspective of two-dimensional texture, quite rare items created by hand using buttonhole bindings, twisting and stereoscopic effects of staining on the surface of fabric, gain three-dimensional form.
The name of this traditional technique, which is more than 1,300 years is "shibori". Thus, you will never find two identical accessory: fifty painted canvases will lead to fifty different and authentic products, which once again underlines the value and importance of the object of desire.
Pocket squares KAZARO is a combination of the sublime ideas of careful attitude to the preservation of a dying art and unconventional approach to style. That moment, when the scenic addition of image may become more meaningful than its owner.
kazaro.jp
25
ISRAEL
Couture and streets with traditional elements and modern ideas are perfectly combined in Arama shoes. Shoes design goes to beyond trends, finding the sophisticated form. This is a "street smart" for demanding personalities.
But how else? Handmade, aesthetic and the limited lines of the Israel brand was originally destined for success. Illustrated oxfords, broggi on the toothed platform or metallic Derby? Don't know what to choose? Then follow to your feelings... All the models are beautiful!
so-arama.com
24
SWEDEN
Most of the lines from Loelle are multi-purpose. They can be used as serum oil for skin face, neck, decollete, hair, or as an essential component of any massage. They allow you to deal with fine wrinkles, dryness, flaking, giving the skin firmness and elasticity. Organic natural products by Swedish brand give the opportunity to combine many tools beauty care in one, thanks to the active nutrients, omega 3, 6, 7, 9 and carotenoids.
Of course, of all formulas excluded unnecessary and dangerous additives, and all oils obtained in a result of 100% cold-pressed. Pure oils of avocado, almond, argan are necessary for everyone to maintain healthy skin, and their stylish crafted design and gift wrapping confidently confirm the status for the perfect gift!
loelle.se
23
FRANCE
Recommend to buy a wireless system Phantom, which absolutely needs no introduction. For a short period of time it managed to make a lot of noise.
It features: power 750 W, sound pressure level of 105 dB and an incredible frequency range from 16 to 25,000 Hz. In addition to the standard Phantom in Silver Phantom Duo representing the more powerful dual system.
Discover a new universe of sound!
en.devialet.com
22
ENGLAND
Subella London sells good taste, inspired by the past, but at the same time very modern, without unnecessary logos and pathos. The appeal of accessories is clean lines and the warmth with which created the luxurious bags in the heart of Tuscany
. Instead of working with several manufacturers, meet customer demand, the English luxury company cooperating with an Italian family factory, where with awe by hand of the best calfskin models and using high-quality hardware (24 carat gold plating) is made each accessory. «We don't want to make the fatal mistake of taking too many orders and saving on quality,» says Susan (the founder and owner of Subella London).
And although the brand has a small history, it has a great future in the international arena.
subellalondon.com
21
ENGLAND
Over than 600 validation tests and 10,000 virtuoso crash tests — all in order to create the best wireless vacuum cleaner.
In fact, the engineers of Dyson were possible to design a standard, light and compact harvesting machine, which weighs a total of 2.63 kg. In addition, it by no aspects concedes by powerful to an ordinary fellow and allows you to reach the most inaccessible places.
No longer have a cord and switch sockets, simply remove the cleaner with a convenient docking station, compactly placed in any place of the apartment, and start cleaning up. In stock 40 minutes of work and a variety of attachments, allowing you to quickly and easily cope with any situations.
dyson.com
20
ITALY
19
UKRAINE
18
DENMARK
17
ITALY
16
BULGARIA
Exciting design of a new Bluebella collection brings inspiration and fills our hearts with passion, and all lines of brand imbued with seductive attention to detail and high quality performance at attractive prices.
It's a real arrow of love, ready to hit any target!
Sensual products and boudoir accessories will be a welcome gift worthy of the most discerning beauties.
bluebella.com
9 10
AND
ENGLAND
The London design Studio Fredrikson Stallard in 2015 released the pieces of sculptural furniture resembling the conformation of the amorphous body in the form of an asteroid or rock. Momentum is a unique collection devoted to the tenth anniversary of the brand and created from polyurethane, fiberglass and polyester. Life and death are merged into lines and shapes of amazing products...
The founders Patrik Fredrickson and Ian Stallard, the assembly summed up their creative process, oscillating between craft techniques of manufacture and avant-garde ideas, but collectors got the opportunity to become owners of the next masterpiece in the field of industrial design.
fredriksonstallard.com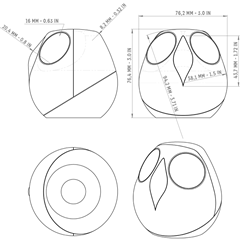 7
LUXEMBURG
Enterprising french inventor Vivien Muller presented on the crowdfunding website a new remote surveillance system — Ulo.
The interactive device is a cartoon owl with OLED "eyes" in a circular design with a diameter of 1.22 inches and "nose"camera. Robotic pet responds to movement. It monitors the room in the absence of the owners, if necessary, by sending images and a short video in animated GIF files to your smartphone or save in the "cloud service".
The eyes always tell the information about the charge level — in the rate of 10% and they become less "sleepy". Thanks to the revolving base and the magnets to fix the Ulo would not be so difficult even on a steep wall.
Sales will start in 2017.
mu-design.lu/ulo-infos/
8
INDIA
VOTRE - not only the selective product of the highest quality for the personal and professional use, created on the basis of botanical components. First of all, it is a rational investment in your health.
Most cosmetic corporations use aggressive chemicals for providing of "instantaneous results" that always result in the damage of skin. The Indian company Trumount Cosmoceuticalst went another way, taking maintenance of synthetic ingredients to the minimum. Specialists through biotechnical and pharmaceutical developments substituted harmful substances by fitosyre and vegan components.
So, after 7 years of researches the new was born bio brand. From the first party of creams, lotions and oils of VOTRE filled up the list of friendly brands of international organization on defense of animals, annually confirming the high status.
Do you want to give the dimmest and dry skin a radiance and freshness? Is a safe and effective cosmetic needed? Do you care of environment and are you a supporter of vivisection?
Then choose ethic cosmetic Brands from the certified list of PETA (
to get a document
) with the mark of V or L.
Well, and we at an opportunity recommend to become acquainted closer with VOTRE. You will not be disappointed in the choice!
trumount.com
6
ITALY
IL BICICLETTO is a new concept electric mobile tools with innovative design, something between a motorcycle and be-cycle with pedals.
In the unique creation is an electronic accelerator so that the gear shifting is not necessarily. The design considered to the detail. The authors of Bicicletto drew inspiration in forms and the images of old motorcycles: from that era taken the lines and stylistic execution. Even in the modern adaptation retains an intimate finish retro.
Logo SPA (Italian automotive company "Societa Piemontese Automobili") in Bicicletto the headlights are behind and surrounded by a neon halo car lights. This is important detail will be the hallmark for the future projects.
The frame is made of high quality material — carbon fiber, which contributes to a significant reduction of weight, intentionally creating imbalance between the actual weight and the weight of "visual".
societapiemonteseautomobili.com